FREE Simple Web Site and Design For Pre-Schools, Nurseries, Kindergartens, Parent & Toddlers and more.
Hi, my name is Dave Quinn . I have been working with voluntary and charity organisations for over 40 years. With my wife Carol, we run a number of childrens clubs, so are well aware how expensive things can become. If you're not careful you can easily find somethings are not cost effective. From working with the voluntary sector we have come up with a way to 'at last' get your group onto the internet at pennies a day.
If you are prepared to send us the information you would like to see on your new website made by us, just send it over after completing the basic application form.
We then produce your simple website for you to approve or add to. There is no cost for this service. If you are not happy, that's it. We will delete it and you owe nothing. If you are happy and you would like your website available on the internet for all to see, we only ask £00.15p a day to keep it on the internet on our server. So you have nothing to think about and can get on with the further progression of your group.
If this sounds to good to be true, fill our website request form in now, and we'll show you it's true.
If you are interested in a website to promote your group, TAP HERE and fill in your details. We will contact you with further details.
PRE-SCHOOL, NURSERY OR TODDLER GROUPS
---
Click Here For A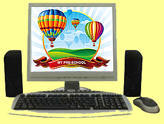 NEW Pre-School
WEB SITE
FREE WEB SITE CREATION
ONLY PAY HOSTING